General Information
All Star Taxicab
provides quality services with fantastic customer care. More than just a taxi service, we offer delivery, courier, shopping, and medical transport services. We utilize two separate fleets to help prevent service overloads, mystery shop and evaluate our drivers on a regular basis, and screen each driver before allowing them to provide services.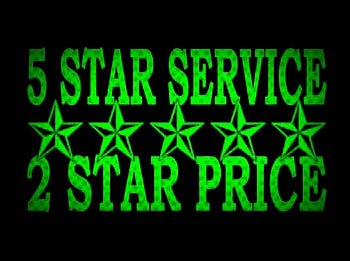 Service Areas
We currently offer service in Albany, Corvallis, and Lebanon, Oregon with Albany as the central hub and main office location. We were the company that expanded the most in Linn and Benton counties for 2016 with a 536 percent growth rate. We appreciate all of our customers and are saying thanks with a limited time offer here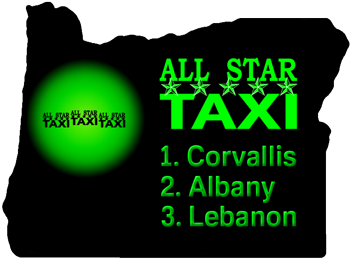 Driver Screening
We feel that better service takes better drivers, and are careful when selecting someone to join our 4P (polite, prompt, punctual, and professional) driver network. All All Star Taxicab operators are required to pass the mandatory screening process of our most stringent operation area. The screenings are administered by that city's police dept. and must be renewed regularly. Other service areas are less strict, including one that allows anyone to drive a cab if they can get car insurance!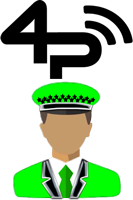 Rates and Conditions
Each of our service areas are different with their own set guidelines that mandate how taxicabs operate. In turn, this varies All Star Taxicab's rates and service conditions in order to comply with each area. Here is the information from each city that dictates our conditions of service, whether we must run a meter, and so on…
Frequently Asked Questions
★ Do you offer service to the city of Such N Such?
☆ We would if there actually was a town named that in the state. We'll transport passengers and packages from any of our service areas to any destination within the State of Oregon.
★ Will you come to another town to get me?
☆ We normally do not, but will as long as payment is received beforehand.
★ Is my credit card information safe if I pay over the phone or through your website?
☆ Absolutely. When you communicate your payment details to us, you are doing so ONLY with our dispatcher that is on duty. Once we run your information though our card service provider (we currently conduct all transactions through Square), the information is then disposed of securely via physical or digital shredder.
★ What are your rates?
☆ They vary. In Albany and Lebanon it's a flat rate while in Corvallis we are required to run meters. Believe it or not, the metered fares are often less expensive unless the trip is all the way across town.
★ Do you allow pets??
☆Unless it is a service animal which are always allowed, it's completely up to the leasing operator on shift. Most do not mind provided the animals are in carriers or well behaved. However, additional fees may apply if the animal (including service animals) defecates, sheds excessively, causes damage, or otherwise disrupts our normal flow of service.
★ I need to go to another city for an important appointment that'll take awhile, then go home. Is that possible?
☆Of course. We are more than happy to take you somewhere, wait til you are finished, and then return you home. We usually end up reducing the return trip price as well since we would have had to come back anyways.